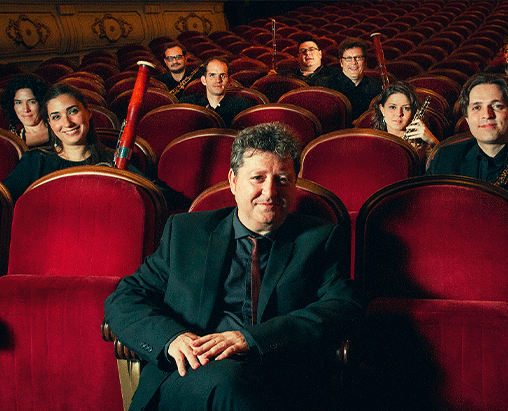 Concert 1 / Tuesday, July 19, Inauguration. 20.00 (Capitoli Theater)
Musique pour faire plaisir. Moonwinds
The work 'Musique pour faire plaisir' by Francis Poulenc, instrumented by Jean Françaix, defines the theme of this year's festival. Last year we wanted to accompany the suffering of the pandemic with music written in extreme situations, music that helps us in times of great difficulty. This year we wanted to offer music that gives us pleasure, the beauty of sound itself, the ability of music to bring out the most beautiful in us.
This was the word idea of the Paris composers of the first decades of the 20th century. We represent them with Francis Poulenc with two works, his Sextet and Musico pour faire plaisir.
In parallel we offer you Valencian musical heritage of composers who drank from the sources of the French music of their time: "en estilo popular", Moonwinds' adaptation of his string quartet with music by Giner and Breton.
Program
F. Poulenc/J. Françaix, Music to make pleasure
F. Poulenc, Sextet for winds and piano, op.100
M. Palau, Suite en estilo popular (recuperació patrimoni valencià, versió per a vents)
Bretón/Ortega, Fantasía sobre la verbena de la paloma.
Moonwinds Ensemble:
Joan Enric Lluna, conductor
Paco Varoch, flute
Juan Antonio Ferriol, oboè
Andrés Otín, oboè
Mª Ángeles Galán, clarinet
Ximo Sanchis, bassoon
Juan Pedro Fuentes, bassoon
Maria Rubio, horn 1
Alfredo Cabo, horn 2
Toni Garcia, contrabaix
Juan Carlos Garvayo, piano
Concert 2 / Friday, July 22, 23.00 (Villa Eugenia)
TRIO ALTER. LATE CONCERT ENSEMBLE DEL FESTIVAL
Young chamber ensemble with Valencian roots formed by the pianist Marina Delicado, the violinist Josep Ribera and the cellist Marc Bullón.
Friends of the Conservatorio Superior de València and different groups in the community, the three members have international training and experience in France, Germany and Belgium. In 2021 they meet again in their homeland, with the prospect of bringing their artistic experience to the Valencian public.
In resonance with their time, Trio Otro wants to combine historical and traditional repertoire with avant-garde creation, dedicating a special interest to current composers. They revisit classical works with an enthusiastic and daring vision, full of passion and dedication, with the ambition of creating a direct and sincere link with the listener.
Programa
Trío no. 1, Mendelssohn
"Trio Alter"
Josep Ribera, violí
Marc Bullón, cello
Marina Delicado, piano
Sonata, César Franck
Mikhail Spivak, violí
Hilario Segovia, piano
Concert 3 /Saturday, July 23 8:00 p.m. (Capitol Theater)

SCHUBERTIADA
The festival celebrates a Schubertiada following the idea of music for pleasure. At the the famous Schubertiades, the composer gathered artist and intellectual friends, and music and poetry were made. music and poetry.
Programa
F. Schubert, "El Pastor sobre la roca"
F. Schubert, "La mort i la donzella"
Ensemble del Festival
Quiteria Muñoz, soprano
Luís Giner, piano
Joan E. Lluna, clarinet
Concert 4 / Saturday, July 23, 23.00 (Capitol Theater)

FUSTERIADA
Evoking the schubertiades, we bring together music, poetry, friendship and pleasure to share. On this occasion "alla valenciana" putting in front of the most representative intellectual of the Valencian culture, Joan Fuster, exploring his poetic spilling and putting to music the texts with new music with Fusteriada.
texts with music of new creation with Fusteriada, which has been commissioned by the Godella Chamber Festival to the Valencian composer, Daniel Blanco.
Programa
Criatura dolcíssima Manuel Palau / Poema de Joan Fuster (1893-1967)/(1922-1992)
"Quatre cançons sobre poemes de Joan Fuster" Matilde Salvador / Poemes de Joan
Fuster (1918-2007)/ (1922-1992)
Lectura de poemes de Joan Fuster
Fusteriada, de Daniel Blanco, encàrrec del Festival *estrena
Quiteria Muñoz, veu
Joan E. Lluna, clarinet
Luis Giner, piano
Josep Ribera, violí
Lola Moltó, actriu
Paula Braguinski, actriu
Concet 5 /Sunday 24th july 7.00pm (Entrada parque del Molino)

CULTURAL-MUSICAL WALK AND QUINTET L1BRASS
A walk to get to know Godella better, visiting places of cultural and tourist interest, all accompanied by good chamber music. accompanied by good chamber music. We will visit the House-Museum of Pinazo, the Gothic Chapel of the church Gothic Chapel of the church, the Torreta de Misildo and the Hermitage. We will be accompanied by Josep Vicent López, member of the Local History Workshop of Godella.
An enriching and stimulating experience.
Programa
Suite Americana nº 1 – Enrique Crespo (1941-2020)
I. Ragtime
II. Bossa Nova
III. Vals Peruano
IV. Zamba Gaucha
V. Son de México
West Side Story – Leonard Bernstein (1918-1990)
Something's comin'
Maria
Canzone – Giovanni Gabrielli (1557-1612)
Canzone per sonare Nº1
Canzone per sonare Nº2
Conze a prima a 5
L1 Brass
Guillem Torró Senent, trompeta
Arnau Aixa Siurana, trompeta
Laura Dalmau Martínez, trompa
Jesús Victorio Albiach, trombó
Manel Lluis Aroca Roca, tuba
Concert 6 / Monday, July 25, 20.00 (Capitol Theater)
LOVING MENDELSSOHN
The prestigious violinist Leticia Moreno leads the program dedicated to Mendelssohn who, with Rossini, were great gourmets. After listening to her with the festival ensemble, we will celebrate a gastronomic concert, combining good local cuisine with good music.
Programa
Mendelssohn, Peça de concert nº1, per a 2 clarinets i cordes op.114
Mendelssohn, Octet per a cordes
Leticia Moreno, violí
Olatz Ruiz de Gordejuela, violí
Mikhail Spivak, violí
Alexander Nikolaev, violí
Julia Hu, viola
Andriy Vijtovych, viola
Salvador Bolón, cello
Adolfo Gutiérrez, cello
Ander Perrino, contrabaix
Joan Enric Lluna, clarinet
Mª Ángeles Galán, corno di bassetto
Concert 7 /Monday, July 25 21:30h (Villa Eugenia Gardens)

LOVING ROSSINI- Gastronomic Concert "alla Rossini"
Programa
Sonata I "a quattro" en Sol Major – Gioachino Antonio Rossini (1792-1868)
-Moderato – Andante – Allegro
Dúo I per violi i violoncel Op.31 en Do Major – Federico Fiorillo (1753-1825)
-Allegro Spiritoso – Larghetto stilo antico – Allegretto scherzoso
La Tempesta – Gioachino Antonio Rossini (1792-1868)
VI Sonata "a quattro" en Re Major
-Allegro spiritoso – Andante assai – Allegro (Tempesta)
Paco Varoch, piccolo – Mahler Chamber Orchestra
Olatz Ruiz, violín – Gewandhausorchester Leipzig
Salvador Bolón, violoncello– Orquestra de la Comunitat Valenciana
Ander Perrino, contrabajo – Deutsche Symphonie Orchester Berlín
Concert 8 / Tuesday, July 26, 20.00 (Villa Eugenia)
YOUNG TALENTS
The young participants in the chamber music workshop-course will showcase their talent in a concert where they will be the main their talent in a concert where they will be the main protagonists.
Concert 9 /Thursday, July 28th 20:00h (Teatro Capitolio)

CLOSING. Festival Orchestra/Moonwinds Symphony Orchestra and Chorus.
We present a choral symphonic concert full of colors, stories and wonderful musical moments such as the Choral Suite from Berstein's West Side Story. The participatory choir that after the *parò forced back up to the *escenàri. We will listen of the hand of Carles Marín the Rhapsody where to Theme of Paganini de Rachmaninoff. Of Vicent Asencio, we will play his Pastoral.
The orchestra, under the baton of Joan Enric Lluna, is formed by a meeting of professors of the Oquestra de las Artes, the Oquestra de las Artes of the Oquestra de las Artes, members of Moonwinds, collaborators of the Festival and pupils participants of the Chamber Courses organized by the Festival. Here all together prepare the repertoire offered: teachers, students, guests, all musicians.
Programa
V. Asencio, Dansa I de Quatre Danses i una Albada
M. Ravel, Le Tombeau de Couperin
S. Rachmaninoff, Rhapsody on a Theme of Paganini, Op.43
Bernstein/Huff, Suite coral de West side Story (amb cor participatiu)
Cor participatiu integrat per intèrprets valencians i de la resta d' Espanya.
Dir. Coro: Josep R. Gil Tárrega.
Orquestra:
Carles Marín, piano solista
Joan Enric Lluna, director
Mikhail Spivak, concertino
Eduardo Raimundo, clarinet
Associació Amics PER LA Música de Cambra A Godella
G-98269533
Plaça l'Ermita, 4
46110 Godella (Valencia)